Scalp micropigmentation is a hair follicle replication (not restoration) procedure that makes use of specially created pigment for the scalp. This pigment resembles the hair follicles of the scalp, matching their color and hair growth direction when applied. It's an extremely effective form of hair loss treatment which gives you natural looking results.   
The procedure is non-invasive, requiring no incisions or surgery whatsoever. The small 'dots' of pigment mimic the surrounding hair strands on the scalp, blending right in. Sometimes referred to as hair tattooing, SMP treatment is a more specialized procedure that's performed by trained medical experts. It's a much cheaper and safer alternative to other hair loss treatments, with no side-effects and minimal recovery time.
How the Process Works
A pigment gun and a needle are used for scalp micropigmentation. The needle penetrates the epidermis directly, through the cell lumens. These enable the ink to be deposited as small dots, and stay consistent in both shape as well as size. During the sessions, the pigmented dots are layered over each other. This gives them darkness and density needed to mimic the hair follicles on the scalp.
What makes this process different from tattooing is the variation in the stroke used, the depth of the ink implant, and the technicalities involved in ink application. When the excess ink fades away, a pigmented impression is left behind resembling the shape of the follicles. Since this is situated on the dermis, the size doesn't alter over time and gives the scalp a consistent appearance.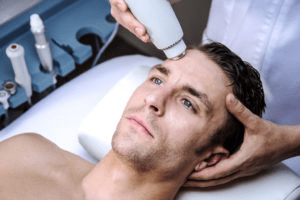 How Long the Procedure Takes
The comprehensive treatment process is spread over a course of 2–5 sessions, scheduled about a week apart. The duration of each of these sessions depends on the extent of pigmentation required and the area covered. Typically, the first session ranges between 2 to 4 hours, with the later sessions taking less time.
Patients are advised to keep their head dry for up to 24 hours, then use cold water for 5 days and avoid shaving or washing it.  During this time, the pigment gets a chance to settle on the scalp and the skin heals from the minor bruising and redness that may have occurred. By the time your next appointment takes place, the pigment dots have become slightly lighter and less distinct, ready to be covered with more ink.
A consultation appointment is set prior to the sessions to fully determine your requirements. These are then implemented in the SMP sessions, which are tailored according to individual goals.
Delaware Scalp Micropigmentation provides scalp micropigmentation services in Wilmington. Call or text us at 302-292-0380 to get in touch with our team!