Our Team
Joey Saienni (sigh-annie)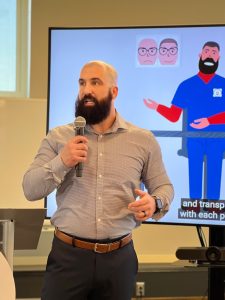 Joey Saienni, AKA Joey Dots, is the owner of Delaware Scalp Micropigmentation (SMP). Joey started his SMP journey in 2015 when he decided not to get a hair transplant and to get SMP instead. Joey was the first person in Delaware to open and operate a scalp micropigmentation business and continues to be the #1 SMP Practitioner in the state.
But how did it all start? Joey grew up in Newark/Bear Delaware and graduated from Glasgow High School in 2005. Joey grew up in a negative environment and wanted to see what else the world had to offer, so he joined the US Navy. During his time in the Navy, Joey developed discipline and time management skills that changed his life. When he received his honorable discharge from the Navy, he decided to go to college, something most people in his family had never done or completed. For the next seven years, Joey worked full-time, went to college full-time, paid his own bills, and worked out full-time, which cultivated his desire to keep growing mentally, physically, and emotionally. In 2012, Joey graduated with a Bachelors Degree in Organizational Management and, two years later, earned his Masters Degree in Management Information Systems Technology.
While working at JP Morgan Chase as a Project Manager and Business Analyst, Joey started to lose his hair. This depressed him, and he decided to take action: he researched FUT/FUE hair transplants and decided the results would not meet his standards. He continued his research and found the most effective way to treat hair loss: scalp micropigmentation. At the time (2015-2016), there were not many SMP Practitioners in the country, so he traveled down to Washington D.C. to get his three sessions. Amazed with the results, Joey decided to use his vacation days to start the process of getting professionally trained in SMP. After getting certified, Joey started doing SMP out of his house, practicing on friends and family and anyone that would allow him to gain more experience.
Eventually, in 2018, Joey decided it was time to open a public location for SMP. For the next two and a half years, Joey worked at his corporate job and ran his own business full-time, and continued his SMP education, ultimately training with 5 world-class SMP Artists from around the globe. During the pandemic, Joey was able to walk away from JPMC and operate Delaware Scalp Micropigmentation full time. After nearly four years in his first unit, in 2022, Joey bought his new and current location in suburbs of Wilmington, Delaware.
Joey has completed thousands of sessions and changed over 400 people's lives. He has a strong passion for helping others and loves to see his patients regain their confidence. If you're struggling with hair loss, set up your free consultation with Joey Dots, the top SMP Artist in Delaware and Philadelphia.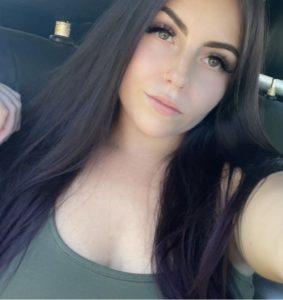 "When you look beautiful, you feel beautiful."
Kelsey Tyre, better known as Kat.Eyes at Delaware SMP, specializes in eyelash extensions (4yrs), microblading (2yrs), and scalp micropigmentation (1yr). Kelsey is 29 years old and grew up in Delaware; she's always had a passion for making others feel good about themselves. Kelsey was a stay-at-home mom until her son started school, and rather than go back to work for someone else, she decided to chase her dream of being an entrepreneur and changing people's lives. Kelsey was trained in eyelash extensions by Elana and then continued her education with Victoria. Kelsey trained with Brittany from Nouveau Cosmetic Surgery Center in microblading, and Joey Dots from Delaware SMP in scalp micropigmentation.
Kelsey enjoys traveling and creating memories with her son. She is constantly striving to learn new skills and techniques in the PMU Industry. She is a perfectionist by nature and has such precision that you can see it come alive in her work. Kelsey loves that she can build relationships and lifelong friendships with her clients. Her goal has always been to give her clients the confidence boost they need to feel good. When you look good, you feel good. No need to put on makeup or spend those extra minutes to fill in your brows, or even try to hide those thinning hair lines. Being able to say, "I woke up like this" and go is the main goal.
Don't wait to change your life!